Edgware Road, London Pawnbrokers
199 Edgware Road, London, W2 1ES
| | |
| --- | --- |
| Mon: | 9AM – 5PM |
| Tue: | 9AM – 5PM |
| Wed: | 9AM – 5PM |
| Thu: | 9AM – 5PM |
| Fri: | 9AM – 5PM |
| Sat: | 10AM – 4PM |
| Sun | Closed |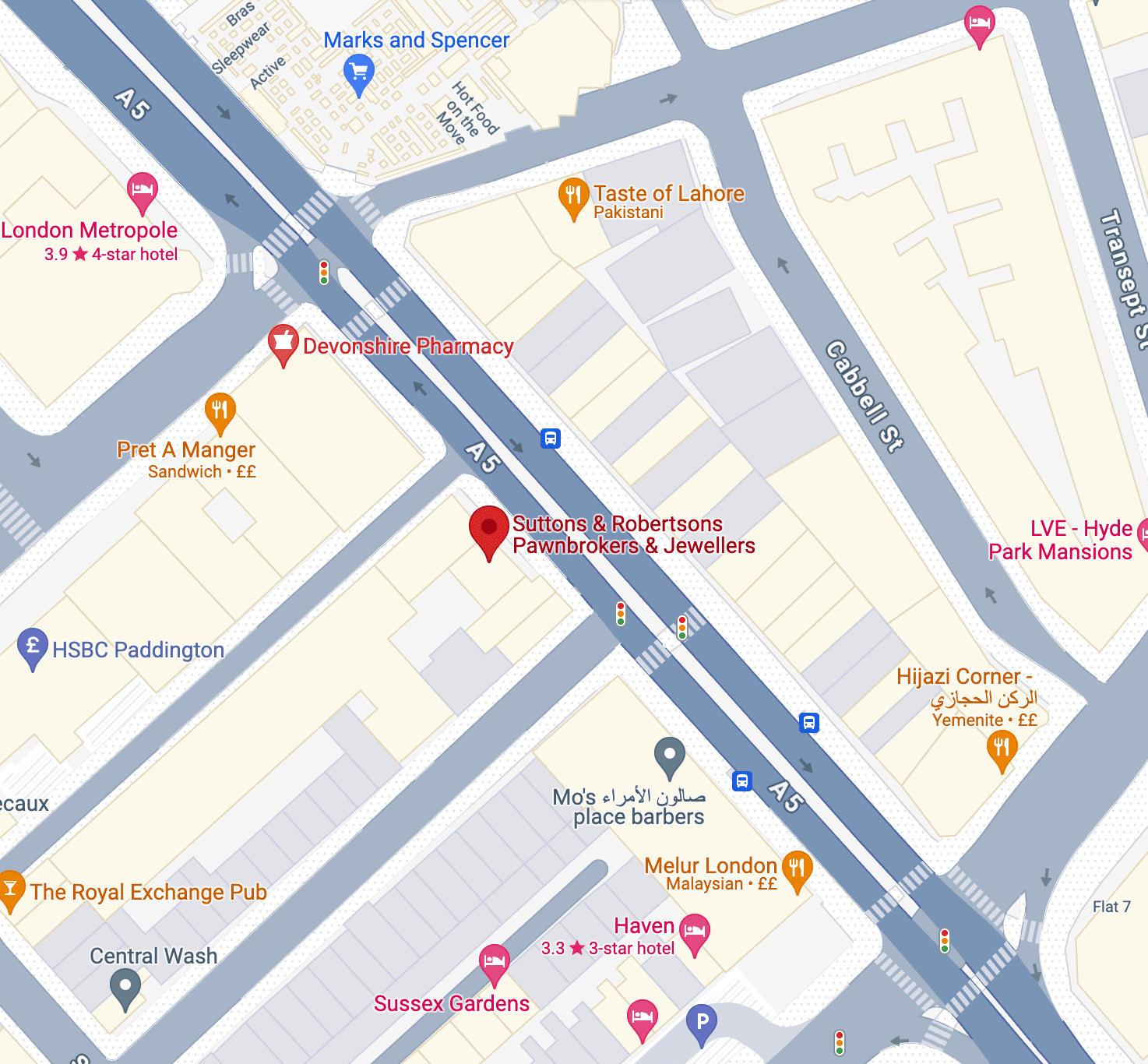 Sell your watches and jewellery
Shop watches and jewellery
Bespoke jewellery service
Welcome to our London Edgware Store
Located between Paddington and Marylebone, our Edgware pawnbroking jewellery store is within striking distance of many transport routes.
We look forward to welcoming clients seeking a pawnbroking loan against a luxury asset or if you would like to visit our store to browse our fabulous retail range. Our team will be happy to help you.
Our Edgware Road store is a moment's walk from the waters of Paddington Basin. We're close to four underground stations, the closest of which is Edgware Road, with a 2-minute walk. Marylebone underground station is an 11-minute walk, Marble Arch tube station is a 13-minute walk. This also places our store just 13 minutes from the edge of London's Hyde Park.
The namesake of the world's favourite bear, Paddington, is also an 8-minutes-walk. Home to overground services as well as an underground line, Paddington station is also a stop on the recently-opened Elizabeth Line. For clients arriving by bus, our Edgware Road store is located on local bus lines. For more information, please call 0333 009 7976.
Suttons and Robertsons Edgeware Road store has a team of highly qualified experts in their field. With years of experience in offering pawnbroking loans against luxury jewellery watches, our team will take you through the pawnbroking process during your valuation with us.
Our team inherently understands the importance of privacy discretion. It's important to us, at Suttons and Robertsons, and something that has guided us for over 250 years. You will be able to consider your valuation before deciding to move forward with your loan.
Our retail range is full of stunning diamonds, jewellery and luxury watches that you may not find anywhere else. Preowned, our collections are well worth exploring as you may discover a hard-to-find Rolex or Omega, or you might chance upon a Patek Philippe that's well worth investing in. Our jewellery ranges from solitaire engagement rings – think Graff and Tiffany – to the paired back simplicity of Cartier LOVE or Bulgari's B.zero1 ranges.
Our London Edgeware Road store is open Monday to Friday and Saturday. The store is closed on Sunday. Clients are welcome to drop in at any time. An appointment is not necessary but you are welcome to get in touch before you visit and speak to our team.
Our Pawnbroking Loan Rates
Terms
All our loans are for 6 months and are secured against your valuables. Maximum APR (including all fees): 93.21%. Minimum and maximum repayment term of 6 months. These loans are redeemable at any point during the loan period. Only the loan amount and accrued monthly interest are payable if the loan is redeemed before the end of the loan term.
REPRESENTATIVE EXAMPLE
Loan amount of £1,000. Loan term of 6 months. Interest rate of 6% per month (fixed). Total interest of £360 over 6 months.
Total repayable amount in one instalment is £1,360. Representative APR is 84.96% (including all fees).
Risk Warning: If the loan is not repaid, the assets may be sold.