Looking to pawn jewellery at a high end pawn shop?
We provide fast pawn loans against your fine and modern jewellery. Our highly trained specialists assess your jewellery as jewellery, not just weights and measures. We consider many appraisal factors so we can offer you the maximum amount against your luxury jewellery pieces. Get in touch with us today to receive a quote.

Fast
Receive money in as little as an hour.
Expert
Trusted pawnbroker and jeweller for over 250 years.
Competitive
Accurate valuations and competitive loan rates.
Confidential
Discreet service with no credit checks.

Fast
Receive money in as little as an hour.
Expert
Trusted pawnbroker and jeweller for over 250 years.
Competitive
Accurate valuations and competitive loan rates.
Confidential
Discreet service with no credit checks.
A FAST AND SIMPLE PROCESS
Contact us
Get in touch with us online,
in-store or by phone.
Accept Offer
RECEIVE YOUR OFFER FROM OUR
SPECIALISTS IN AS LITTLE AS 1 HOUR.
RECEIVE MONEY
ACCEPT THE AGREEMENT AND RECEIVE
THE MONEY VIA SAME-DAY BANK TRANSFER.
Getting Your Jewellery to Us
WE OFFER SEVERAL OPTIONS:
IN-STORE
Bring your jewellery into one of our London stores today. You are welcome to book an appointment with our expert appraisers and they will be ready to meet you when you arrive.
COURIER SERVICE
Use our free insured Special Delivery courier service to send your jewellery to us, or we can send our courier to you to collect your jewellery. Receive money in 24 – 48 hours from your home.
STAFF COLLECTION
Have your high value jewellery collected by one of our staff members at a convenient time place for you.
HOME VISIT
For high value jewellery, our specialists can come to you to value your luxury assets.
Valuing Your Jewellery
Our highly trained specialists consider many factors when valuing your jewellery to ensure we provide you with the most accurate and up to date valuation. The most important factors are:
BRAND
Jewellery from certain brands or makers such as Cartier, Tiffany Van Cleef & Arpels tend to have higher resale values and hold their value much better over time.
PROVENANCE
If you have a certificate of sale or any papers that record information about your jewellery, this adds value. If you have lost or misplaced them, don't worry, we will still be able to provide you with a loan estimate.
MATERIAL
Fine jewellery is mostly made of high value materials such as gold (yellow, white, rose), platinum and silver. Look for the hallmark stamped on your jewellery as this certifies the purity (9 – 24 carats).
CONDITION
We understand that over time your jewellery might have some wear and tear damage, though any significant dents, scratches or other damage can impact the value. Broken jewellery made of precious metal can still be valued by weight gemstones can be valued separately.
GEMSTONES
Diamonds are assessed by the fundamental four C's: colour, clarity, cut and carat. To achieve the highest potential value for your diamonds, we welcome the 5th C: certificate. Laboratory certificates from GIA, HRD, and Anchorcert all help maximise the value of the diamonds set in your jewellery.
MARKET VALUE
We consider any recent information we can locate from auction and private sale records to ensure our valuations, which are based on auction estimates, are accurate. Read more about our valuation process for jewellery.
Security and Care
LOOKING AFTER YOUR JEWELLERY
TRANSPORT
If you use our courier service to have your jewellery collected from your home or you send your items to us, it will be insured up to £20,000 during transportation.
If your jewellery is of high value and you use our staff collection service, it will be insured up to £100,000 during transportation.
If your watch(s) is of high value and you use our staff collection service, they will be insured up to £100,000 during transportation.
STORAGE
Whilst your jewellery is with us to be valued by our specialists, or if your jewellery is under loan with us, it is stored in protective packaging in our highly secure vaults.
CARE
When your jewellery is with us, we take every step necessary to look after it. Our valuation specialists and inventory managers handle your jewellery with care to make sure your luxury valuables are returned to you in the same condition we received them in.
Jewellery
Emerald Diamond Set Ring in White Gold
£10,000
Jewellery
Diamond Solitaire Ring in Platinum 2ct SI1
£7,500
Jewellery
Multi Gem Set Diamond Butterfly Brooch
£2,000
Jewellery
Brilliant Cut Diamond Set Choker Approx 30ct set in White Gold
£8,500
FREQUENTLY ASKED QUESTIONS
WHERE CAN I PAWN MY JEWELLERY IN LONDON?
You can borrow against the value of your jewellery at one of our London pawnbrokers. Suttons and Robertsons have four pawn shops in London; Victoria Street Pawnbrokers, Edgware Road Pawnbrokers, South Kensington Pawnbrokers and Fleet Street Pawnbrokers. If you live or work in London and are looking for local pawnbrokers near me, we will be able to value your jewellery and provide you with a competitive quote straight away.
CAN I PAWN USED JEWELLERY?
Yes. If you are trying to find out if you can pawn your used jewellery, Suttons and Robertsons are a UK based pawn shop who have been providing a reliable pawnbroking service against jewellery since 1770. We can offer you a secured loan against your jewellery today. Don't worry if you have never used a pawnbroking service before, our customer service team are there to assist you through the process.
CAN I SELL USED JEWELLERY?
Yes. If you decide you don't want to loan against your jewellery and prefer to sell your jewellery, we can provide you with a purchase offer.
HOW MUCH CAN I PAWN MY JEWELLERY FOR?
We offer loans from £500 up to £2 million. Suttons and Robertsons can lend up to 60% of the value of your jewellery. This means that if you are pawning some Cartier jewellery valued at £5,000, we could lend you a maximum of £3,000 (60% of the value). We always aim to provide our clients with the maximum loan amount though the amount depends on many factors, including the brand, material, gemstones, provenance, condition and market value.
CAN I PAWN MY SECONDHAND ENGAGEMENT RING?
Common items of jewellery that are used to secure a loan at Suttons and Robertsons, pawnbroker in Central London will be rings. Of all the rings that are seen, probably the most common will be the engagement ring. The history of the ring can be reliably traced back to ancient Rome. In many countries, the ring is placed on the ring finger of the left hand. This finger was supposed to contain the 'vena amoris' or vein of love, which led to the heart. The first well documented use of a diamond engagement ring was by the Archduke Maximilian of Austria, to his betrothed, Mary of Burgundy in 1477. This then influenced the upper classes to use diamonds in engagement rings. The medieval Italians called the diamond the "Pietra della Reconciliazione" (stone of reconciliation) because it maintained concord between husband and wife. On this account, it was recommended that the stone be set in wedding (or espousal) rings, not on account of its beauty, therefore. A Gimmal ring, is a ring with two or three hoops or links that fit together to form one complete ring. The name gimmal comes from Latin gemellus, twin, via Old French. In the 16th and 17th centuries, such rings were fashionable in England, Germany, and other countries, and were often used as betrothal rings. The engaged couple would wear one hoop each and rejoin them to use as a wedding ring. With triple-link rings, a third person could witness the couple's vows and hold the third part of the ring until the marriage. In 1866 diamonds were discovered in South Africa by 1872 and output exceeded one million carats a year. This then enabled those of lesser means were able to purchase diamond engagement rings, though they primarily remained in the domain of the aristocracy nobility. The vogue at that time was for a simple band ring. The diamond price collapsed during the 1930s and the Great Depression in the USA. Hence, in 1938, the diamond cartel De Beers started a merchandising campaign to galvanise the market. One of the first elements of this campaign was to educate the public about the 4Cs (cut, carats, colour, clarity). In 1947, the slogan "a diamond is forever" was introduced. Ultimately the De Beers campaign sought to persuade the consumer that an engagement ring is indispensable, and that a diamond is the only acceptable stone for an engagement ring. The idea that a man should spend a significant fraction of his annual income on an engagement ring originated from De Beers marketing materials in the mid-20th century in an effort to increase the sale of diamonds. In the 1930s, they suggested that a man should spend the equivalent of one month's income on the engagement ring; later, they suggested that he should spend two months' income. In 2012, the average cost of an engagement ring in the USA as reported by the industry was US$4,000. In the UK, estimates of the average cost of an engagement ring range from £1200 to £2000. In Nordic countries, engagement rings are worn by both men and women. Traditionally they are plain gold bands, although more ornate designs and other materials are gaining popularity. Women in the British Isles may propose marriage to men during a leap year. Women proposing has become more common in recent years, to the point that some jewellery companies have started manufacturing men's engagement rings. They resemble typical men's rings, often with a diamond centrepiece. Whatever the style price point, engagement rings will typically be of higher value than other rings purchased as gifts and this makes them ideal items to be used as collateral for pawnbroking loans.
CAN I PAWN MY JEWELLERY ONLINE?
Yes. Suttons and Robertsons are an in-store and online UK based jewellery pawn shop. If you want to transact with us from home, rather than coming into one of our stores, you can apply online and use our secure home collection service. If you use our home collection service and decide you don't want to accept our loan offer, we will arrange for your item(s) to be returned to you free of charge. Alternatively, you are welcome to collect your item(s) in-store.
WHY LOAN AGAINST JEWELLERY?
There is often a sentimental or emotional reason why people own jewellery, therefore borrowing against jewellery is often a more suitable option than selling jewellery to raise short term funds. At Suttons and Robertsons, we can release the value in your jewellery in as little as 1 hour. The loan is secured against your jewellery which remains under your ownership for the duration of the loan. When you redeem the loan, your jewellery is returned to you.
WHAT JEWELLERY TYPES DO YOU LOAN AGAINST?
We lend against pre-owned, new, branded non-branded jewellery, made of silver, gold platinum. This includes jewellery with diamonds, rubies, sapphires, emeralds and other gemstones as well as necklaces, pearls, earrings, brooches, cufflinks, necklaces, pendants, rings, lockets, bangles, bracelets, charms and chains.
HOW TO CLEAN MY JEWELLERY?
It's important your jewellery is cleaned regularly but this needs to be done with care. If your jewellery contains gemstones such as diamonds or sapphires, it should be professionally cleaned. If it doesn't include any gemstones, you can clean your jewellery yourself using a small soft brush lukewarm soapy water. We also sell jewellery cleaning products in-store.
Our Pawn Shop Interest Rates
| Loan Amount | Monthly Interest Rate | APR % (Annual Percentage Rate) |
| --- | --- | --- |
| £0 – £999 | 6.5% | 93.21% |
| £1,000 – £7,499 | 6.0% | 84.96% |
| £7,500 – £14,999 | 5.0% | 69.00% |
| £15,000 – £49,999 | 4.0% | 53.76% |
| £50,000+ | 3.5% | 46.41% |
Top Tips For Pawning Jewellery
There are many reasons why you might want to take your jewellery to a pawn shop. It can often be the best option for a short-term loan as it's a fast way of raising money with minimal paperwork. As a pawnbroker, our job is to help you get the best loan. While getting the highest loan amount is important, there are many other important factors.
HAVE A PLAN TO MAKE THE PAWN LOAN REPAYMENTS
One of the main things to consider before visiting a jewellery pawn shop is the repayments. Evaluate your income and fixed expenses to work out how much you can afford to repay after all your expenses. Even if you need the loan for an emergency, it's important you can have a plan to repay the loan.
FIND A PAWNBROKER WITH SPECIALIST APPRAISERS
There are many pawnbrokers in London with the growth of online pawnbroking, it can be hard to know which pawn shop to use. Most importantly, you need to have your luxury item(s) valued by specialists if you want to receive the best loan amount.
CERTIFICATES AND PAPERWORK CAN INCREASE THE VALUATION
If you have a certificate of sale or any papers that record information about your jewellery or luxury watch, this could increase the value. It's important to bring this documentation with you when you visit a pawn shop.
KNOW THE DETAILS OF THE JEWELLERY YOU WANT TO PAWN
It's important to know the details about your jewellery. A ring or necklace is often made of the same components:
Weight
Carat (Gold)
Stone Weight
Stone Carat
Makers Mark
Our Pawnbroking Loan Rates
Terms
All our loans are for 6 months and are secured against your valuables. Maximum APR (including all fees): 93.21%. Minimum and maximum repayment term of 6 months. These loans are redeemable at any point during the loan period. Only the loan amount and accrued monthly interest are payable if the loan is redeemed before the end of the loan term.
REPRESENTATIVE EXAMPLE
Loan amount of £1,000. Loan term of 6 months. Interest rate of 6% per month (fixed). Total interest of £360 over 6 months.
Total repayable amount in one instalment is £1,360. Representative APR is 84.96% (including all fees).
Risk Warning: If the loan is not repaid, the assets may be sold.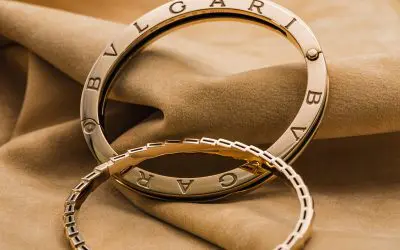 Bvlgari makes stunning jewellery that's so fabulous it's lusted after by jewellery lovers and counterfeiters alike – as with many luxury jewellery brands – Tiffany is another example. From the Roman...
read more