Loan Against Your Diamond Engagement Ring, Jewellery and Loose Diamonds
We offer short term pawn loans against your diamonds. All our diamond valuations are based on up-to-date Rapaport pricing which is the industry standard for diamond pricing. Get in touch with us today to receive a quote.

Fast
Receive money in as little as an hour.
Expert
Trusted pawnbroker and jeweller for over 250 years.
Competitive
Accurate valuations and competitive loan rates.
Confidential
Discreet service with no credit checks.

Fast
Receive money in as little as an hour.
Expert
Trusted pawnbroker and jeweller for over 250 years.
Competitive
Accurate valuations and competitive loan rates.
Confidential
Discreet service with no credit checks.
A FAST AND SIMPLE PROCESS
Contact us
Get in touch with us online,
in-store or by phone.
Accept Offer
RECEIVE YOUR OFFER FROM OUR
SPECIALISTS IN AS LITTLE AS 1 HOUR.
RECEIVE MONEY
ACCEPT THE AGREEMENT AND RECEIVE
THE MONEY VIA SAME-DAY BANK TRANSFER.
GETTING YOUR DIAMONDS TO US
WE OFFER SEVERAL OPTIONS:
IN-STORE
Bring your diamond(s) into one of our London stores today.
You are welcome to book an appointment with our expert appraisers and they will be ready to meet you when you arrive.
COURIER SERVICE
Use our free insured Special Delivery courier service to send your diamonds to us, or we can send our courier to you to collect your diamonds. Receive money in 24 – 48 hours from your home.
STAFF COLLECTION
Have your high-value diamond(s) collected by one of our staff members at a convenient time and place for you.
HOME VISIT
For high-value diamonds, our specialists can come to you to value your luxury assets.
Valuing Your Diamonds
Our highly trained specialists consider many factors when valuing your diamonds to ensure we provide you with the most accurate and up to date valuation. The most important factors are the 'four Cs' certification:
CARAT
Carat is the unit of measurement for the weight of diamonds. Generally, a diamond's value increases in line with the carat weight, however diamonds with equal carat weight can differ in value depending on other valuation factors.
CLARITY
Clarity is the assessment of the inclusions (internal flaws) and blemishes (external imperfections) of your diamond. A gemstone with no visible inclusions or blemishes is graded as 'flawless' and therefore, likely to be of higher value.
CUT
The cut is often thought of as the diamond's shape (oval, pear, round etc.), however it is also about how well the diamond has been cut and finished. The proportions, depth, symmetry and polish will all impact the aesthetic appearance value of the stone.
COLOUR
Diamonds come in many different colours, ranging from pink to blue. However, the most common are colourless. Colourless diamonds are graded on their lack of colour and any yellow, brown or grey tints can impact value.
CERTIFICATION
A laboratory certificate from institutions such as GIA, HRD, and Anchorcert all help maximise the value of your diamonds.
Security and Care
LOOKING AFTER YOUR DIAMONDS
TRANSPORT
If you use our courier service to have your diamond(s) collected from your home or you send your items to us, they will be insured up to £20,000 during transportation.
If your diamond(s) is of high value and you use our staff collection service, they will be insured up to £100,000 during transportation.
STORAGE
Whilst your diamond(s) is with us to be valued by our specialists or if your diamond(s) is under loan with us, it is stored in protective packaging in our highly secure vaults.
CARE
When your diamond(s) is with us, we take every step necessary to look after it. Our valuation specialists and inventory managers handle your diamond(s) with care to make sure your luxury valuables are returned to you in the same condition we received them in.
FREQUENTLY ASKED QUESTIONS
WHY LOAN AGAINST YOUR DIAMONDS?
Your diamond(s) can be the solution to your short term cashflow needs. Borrowing against your diamond(s) enables you to keep possession of them, preventing you from having to sell.
CAN I SELL PRE-OWNED DIAMONDS?
Yes. If you decide you don't want to pawn your diamonds, we can provide you with a purchase offer.
Get a quote
with us online, in-store or by phone today.
CAN I PAWN MY DIAMONDS ONLINE?
Suttons and Robertsons are an in-store and online diamond pawnbrokers. Don't worry if you can't come into one of our London stores, we offer a secure online pawn shop service across the UK.
WHAT LUXURY ASSETS DO YOU OFFER LOANS AGAINST?
We are a high-end pawnbroker specialising in offering fast loans against watches, jewellery, diamonds, gold, fine art, antiques, classic luxury cars, handbags, rare books, sports memorabilia and other luxury items.
WHAT IS THE CARAT WEIGHT OF YOUR DIAMOND? AND THE 4CS?
Diamond carat weight is the measurement of how much a diamond weighs. A metric "carat" is defined as 200 milligrams. Each carat can be subdivided into 100 'points'. This allows very precise measurements to the hundredth decimal place. Sometimes when describing the weight of a diamond that is below one carat, it is often referred to by 'points' alone. It can also be referred to as a fraction. For instance, a diamond that weighs 0.25 carats is often described as a twenty-five pointer or as ¼ carat. Diamonds weighing greater than one carat are usually expressed as whole numbers decimals shown to two decimal places. All else being equal, diamond price increases with diamond carat weight because larger diamonds are rarer and more desirable. But two diamonds of equal carat weight can have very different values (and prices) depending on three other factors of the diamond 4Cs. It's important to remember that a diamond's value is determined using all of the 4Cs, not just carat weight.
WHAT IS THE CUT OF MY DIAMOND?
Diamonds are renowned for their ability to transmit light sparkle intensely. We often think of a diamond's cut as shape (round, emerald, pear), but a diamond's cut grade is really about how well a diamond's facets interact with light. Precise artistry and workmanship are required to fashion a stone, so its proportions, symmetry, and polish deliver the magnificent return of light only possible in a diamond. A diamond's cut is crucial to the stone's final beauty value. And of all the diamond 4Cs, it is the most complex and technically difficult to analyse. To determine the cut grade of the standard round brilliant diamond – the shape that dominates the majority of diamond jewellery –the laboratory carrying out the certificate calculates the proportions of those facets that influence the diamond's face-up appearance. These proportions allow the assessor to evaluate how successfully a diamond interacts with light and to create desirable visual effects such as: Brightness: Internal external white light reflected from a diamond Fire: The scattering of white light into all the colours of the rainbow Scintillation: The amount of sparkle a diamond produces, the pattern of light dark areas caused by reflections within the diamond The diamond's cut grade also takes into account the design and craftsmanship of the diamond, including its weight relative to its diameter, its girdle thickness (which affects its durability), the symmetry of its facet arrangement, and the quality of polish on those facets.
WHAT ARE THE FIVE CUT GRADES?
Standard round brilliant diamonds in the D-to-Z diamond colour range contains 5 cut grades; Excellent Very good Good Fair Poor. The most popular cuts being Round brilliant cut diamond Princess cut diamond Marquise cut diamond Pear cut diamond Cushion cut diamond Emerald cut diamond Ascher cut diamond Radiant cut diamond Heart cut diamond.
WHAT ARE THE BEST PRICES FOR GEMS AT AUCTION
Jewels have always sparkled at auction – as pawnbrokers and jewellers based in the heart of London – we keep a keen eye on what's happening and where. There has been an upward trend in the prices that jewellery can fetch at auction, so Suttons and Robertsons are delighted to showcase outstanding auction performances of recent years. Someone had a very Happy Christmas, back in 2011, with the purchase of La Peregrina, a natural pearl jewel with an impressive backstory. With a history that stretches back over 500 years, La Peregrina is a pear-shaped pearl that was first bought by Philip II of Spain in 1582, passed through the hands of eight Spanish kings over 200 years then fell into the hands of Joseph-Napoléon Bonaparte, King of Naples Sicily elder brother of Napoleon Bonaparte. Bought by Richard Burton in 1969, for $37,000 at auction in New York, Burton gave La Peregrina to his then-wife, Elizabeth Taylor, as a 37th birthday present. Reset by Cartier as the centrepiece to a necklace, the piece was auctioned as part of Elizabeth Taylor's collection. Little surprise, perhaps, that it fetched $11,842,500. Not only does the pearl glimmer as a sound investment, but it also helps to shine a light on the work worthy of the Cartier brand at auction. Small can also be beautiful, as demonstrated in 1987 with the sale of The Hancock Red – a tiny diamond, weighing only 0.95 carats, which was cherished for its colour: Fancy Purple-Red. Fancy diamonds are a rarity, with one in 100,000 diamond qualifying as a 'Fancy' colour. When it comes to red diamonds, these are so rare that you may never see one in a lifetime. A fifth of a gram, The Hancock Red was bought by Mr Hancock, a Montanan farmer, for $13,500 in 1956. In 1987, it fetched $88,000. La Peregrina Colour makes life more interesting when it comes to diamond jewellery. Rings also perform well, as they often auction as stand-alone items. In May 2016, the Oppenheimer Blue, became the most expensive jewel in auction history, selling at Christies in Geneva for CHF 56,837,000 ($57,973,000). The diamond took the name of its former owner, Sir Philip Oppenheimer, whose family had been a driving force in the diamond industry for generations. He could have any diamond he wanted and choose this one for its perfect hue, impeccable proportions rectangular shape. Classified as 'Fancy Vivid Blue' by the Gemological Institute of America, the highest colour grade colour intensity for blue diamonds, the Oppenheimer Blue is the largest Fancy Vivid Blue diamond to have ever appeared at auction. 2018 enjoyed continued auction records for jewellery, with jewellery sales for Christie's Sotheby's totalling over $906 million in auction sales. One of the highest-profile pieces to be sold at auction in 2018 was the "Winston Pink Legacy". The pink 18.96-carat diamond ring set a world record for the per carat price of a pink diamond, fetching $50.3 million purchased by Harry Winston jewellery. 2018 saw the superb opportunity for collectors to bid for pieces from the personal collection of the last queen of France, Marie Antoinette. A natural pearl, as with La Peregrina, this once belonging to Marie Antoinette -and now attached to a diamond pendant- sold for $36.1 million. With a pre-auction high estimate of $2 million, this natural pearl fetched the second highest price achieved for a jewel at auction in 2018 when it set a new auction record for a natural pearl. The entire lot fetched $53.2 million included the royal jewels of the Bourbon-Parma family, Marie Antoinette's diamond-set monogrammed ring and a lock of her hair. The jewels have been held privately out of the public eye for 200 years, with the auction noted as one of the most important royal jewellery auctions in history. Jim Tannahill, of London Jewellers, Suttons and Robertsons, said, "2018 was a year for high prices of single pieces with a clear trend for Fancy coloured diamonds gems, including Burmese rubies, Kashmir sapphires Colombian emeralds. We could see that dealers and collectors were selective in their purchases, with high spending on exceptional pieces, which demonstrates that jewellery can deliver at auction. As with catwalks and high street fashion, auction performance drips down to pawn broking and, as a high-end pawnbroker in London, we welcome the opportunity to see pieces that people may like to release the value from."
CAN I PAWN PRE-OWNED DIAMONDS?
Yes. Our highly trained specialists can grade your diamonds and provide you with a loan offer against diamond-set jewellery and certified loose diamond stones.
HOW MUCH CAN I PAWN MY DIAMONDS FOR?
We offer loans from £500 up to £2 million. Suttons and Robertsons can lend up to 60% of the value of your diamonds. This means that if you are pawning a collection of GIA certified diamonds valued at £13,500, we could lend you a maximum of £8,100 (60% of the value).
WHERE CAN I PAWN MY DIAMONDS?
You can borrow money against your diamonds at our pawn shops. Suttons and Robertsons have four pawn shops in London; Victoria Street Pawnbrokers, Edgware Road Pawnbrokers, South Kensington Pawnbrokers and Fleet Street Pawnbrokers. Please
contact us
if you are searching for pawnbrokers near me and live in London. We will be able to appraise your diamonds and provide you with an offer instantly.
WHAT DETERMINES A DIAMONDS VALUE?
A diamond's value depends on many factors and, as
London pawnbrokers since 1770
, the Suttons and Robertsons' diamond specialists know exactly what they're looking to see in a gemstone. We can offer you a loan against your jewellery collection if you are seeking to pawn a diamond ring, necklace or earrings. We'll be pleased to take a look at your item, either in-store or online, and offer you a free valuation on your piece. Diamonds are the cornerstone of jewellery design and they hold their value, but where they are from, how they've been set, the size and carat of the brand are all important factors in a valuation. A Cartier diamond pave ring may dazzle and shine, but how will it compare to the value of a Graff diamond solitaire engagement ring? It depends on the carat, clarity, cut colour of the diamond, as well as the size. Together, these are known as the 4 Cs and they were created by the Gemological Institute of America to act as a benchmark for deciding diamonds' worth. What exactly is a Carat? A diamond's carats refer to the weight of a diamond. One carat represents 0.200 grams in weight. What this means when valuing a diamond is that the larger or heavier it is, the greater its value. One single stone will always be valued at a higher price than two smaller stones combined. This is because larger diamonds are rarer and, as such, attract a higher valuation. A large solitaire diamond ring could be valued higher than an eternity ring with the same carat and value as one large diamond has greater value than many small ones that add up to the same carat. Large diamonds are also valued more highly because of the effect that a large diamond has over above smaller stones of the same quality. Diamond Clarity - A diamond's clarity refers to its purity and takes into account the number positioning of inclusions (internal flaws) and blemishes (external marks). The fewer the number of inclusions and blemishes, the higher the diamond's value. Diamonds are magnified by ten times to assess their clarity. Five key factors are examined. These are the position, size, nature, colour, the number of inclusions and blemishes. It is often only at this great magnification that flaws can be seen; some are invisible to the naked eye. Gemstone Cut - The value of the other Cs rest in what nature provides, but it is the brilliance of the craftsman who works on the diamond that gives it its cut value. A diamond's cut is what lets light reflect through the diamond and it is a cut that can truly realise a diamond's true beauty. When cutting a diamond, there are three optical effects that can be created: The Brightness – white light reflection, both inside and out. The Fire – How white light is transformed into the colours of the rainbow Scintillation – The reflections, or sparkle, caused by the pattern of light and dark within the stone. Colour - Colour can have a massive impact on the value of a diamond. A large flawless white diamond could be worth less than an ultra-rare smaller yellow diamond with a few blemishes or inclusions. Most famously white or colourless, diamonds also come in colours such as grey, pink or blue, but the less colour a 'white' diamond has, the greater its worth. This is because the lack of colour generates more sparkle. Identical-seeming diamonds can be valued differently on the basis of their colour. While white diamonds are graded on a chart from D to Z, where D is completely colour-free, Z has colour evident; however, coloured diamonds are rated on a different scale which rates a stone according to its strength of colour. The Beauty of Brand Value - A fabulously-cut high-quality diamond might generate a generous valuation, but it might be worth even more if the diamond is nestled in a setting made famous by the world's great jewellery houses. A Cartier LOVE bracelet may have lots of small diamonds, while a Tiffany diamond pendant could be set with a large stone, but the valuation will depend on the condition, the provenance on the availability of the certification documents. It's also important to remember that a brand piece will always have a greater value when bought from the brand store directly rather than at a resale price. That's a Rap - As trusted London pawnbrokers, we rely on a point of reference for our valuations. We know that our clients may be in urgent need of a short-term fast loan, so we turn to the Rapaport Research Report for a cost on every diamond that we see. Called the 'Rap Price', the report states the base price industry-wide for diamonds. Not only does it take the guesswork out of the equation, but it lets you – the customer – know that our valuation is reliable based on a recognised valuation framework. The report will help us to arrive at a price according to cut, colour, clarity and carat as well as identify what your diamond is. Looking to Release the Value in Your Diamond Jewellery? As a London pawnbroker, we never know what to expect – we've had some wonderful surprises over the years. We've also had some disappointed clients who thought that their stone may be held more value than it did. Simply put, diamonds don't lie. Backed up by the Rap Price, we'll be able to make you an expert diamond jewellery loan valuation or diamond jewellery purchase offer. Our valuations are fast, meaning that you could get £500 – £20k almost instantly.
HOW DO YOU JUDGE THE QUALITY OF DIAMOND JEWELLERY?
Diamonds set as earrings, diamonds set as a bracelet, diamonds set as a necklet and diamonds set in rings - in fact, all diamond set jewellery has been used for centuries as a store of wealth. Whenever you have a store of wealth, you have collateral for a pawnbroking loan. The diamonds themselves are judged traditionally on what is known as the 4 C's. Carat weight, Colour, Clarity and Cut. Although more recently, a fifth C- Certificate- has become a vital way of ensuring that you have what you were sold.
WHAT IS THE CLARITY OF MY DIAMOND?
Inclusions and blemishes are structural imperfections which affect the clarity grading of diamonds. Inclusions are largely crystals of diamond or foreign material that have formed within the stone affecting the internal composition, while blemishes are flaws which affect the stone's surface. The size, number, colour, location, orientation, and visibility of inclusions blemishes are all taken into account when evaluating the clarity of a diamond. When inspected through a ten times magnification jewellers loupe, the following grades are given: FL- Flawless; no inclusions and no blemishes, IF- Internally Flawless; no inclusions (Very difficult for a trained grader to spot), VVS1-Very very slightly included grade 1, VVS2-Very very slightly included grade 2 (Difficult to spot classed as minor), VS1- Very slightly included grade1, VS2- Very slightly included grade2 Inclusions are classed as noticeable, SI1- slightly included grade1, SI2- slightly included grade2 Inclusions classed as obvious may affect transparency, I1- included grade1, I2- included grade2, I3- included grade3.
HOW DOES THE COLOUR OF YOUR DIAMOND AFFECT VALUE?
The diamond colour evaluation of most gem-quality diamonds is based on the absence of colour. A chemically pure, structurally perfect diamond has no hue and consequently a higher value. The D-to-Z diamond colour-grading system measures the degree of colourlessness by comparing a stone under controlled lighting and precise viewing conditions to master stones of established colour value. The industry's most widely accepted grading system is produced by GIA. The scale begins with the letter D, representing colourless, and continues, with increasing presence of colour, to the letter Z. Many of these colour distinctions are so subtle that they are invisible to the untrained eye; however, these distinctions make a very big difference in diamond quality price. When an experienced pawnbroker, such as Suttons and Robertsons, assesses any piece of diamond jewellery for a diamond jewellery loan, they will assess the above qualities to determine a loan value. As the 4 C's of a diamond are assessed under laboratory conditions, which has come more to the fore as an important part of assessing the value of your diamond is a certificate.
WHAT IS A DIAMOND CERTIFICATE -THE FIFTH C?
A diamond certificate is an evaluation by a third party. On it, it will clearly state the results as based on the 4 Cs. This evaluation will take the form of a laboratory certificate and must not be confused with an insurance valuation or the retailers stated opinion. There are several known grading laboratories, for example: GIA- Gemological Institute of America, HRD- abbreviation of the Dutch "Hoge Raad voor Diamant", IGI- International Gemological Institute With these certificates, you can contact a pawnbroker who will be able to give you an estimate as to how much they would be able to give you as a pawnbroking loan.
HOW ARE DIAMONDS VALUED?
These gemstones are valued according to their cut, clarity, carat weight and colour: The cut determines a diamond's brilliance The clarity is assessed for the diamond's natural inclusions (flaws), so those with the fewest flaws receive the highest grades of clarity The colour is evaluated on a scale ranging from colourless to yellow/brown, with fancy exceptions such as pink and blue The carat is a specific measure used for weighing diamonds.
Our Pawnbroking Loan Rates
Terms
All our loans are for 6 months and are secured against your valuables. Maximum APR (including all fees): 93.21%. Minimum and maximum repayment term of 6 months. These loans are redeemable at any point during the loan period. Only the loan amount and accrued monthly interest are payable if the loan is redeemed before the end of the loan term.
REPRESENTATIVE EXAMPLE
Loan amount of £1,000. Loan term of 6 months. Interest rate of 6% per month (fixed). Total interest of £360 over 6 months.
Total repayable amount in one instalment is £1,360. Representative APR is 84.96% (including all fees).
Risk Warning: If the loan is not repaid, the assets may be sold.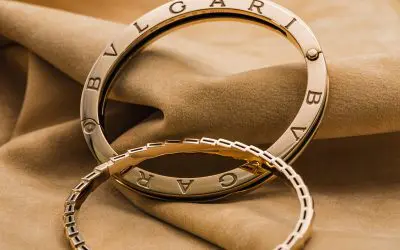 Bvlgari makes stunning jewellery that's so fabulous it's lusted after by jewellery lovers and counterfeiters alike – as with many luxury jewellery brands – Tiffany is another example. From the Roman...
read more