Victoria Street, Central London Pawnbrokers
127 Victoria Street, London, SW1E 6RD
| | |
| --- | --- |
| Mon: | 9AM – 5PM |
| Tue: | 9AM – 5PM |
| Wed: | 9AM – 5PM |
| Thu: | 9AM – 5PM |
| Fri: | 9AM – 5PM |
| Sat: | 10AM – 4PM |
| Sun | Closed |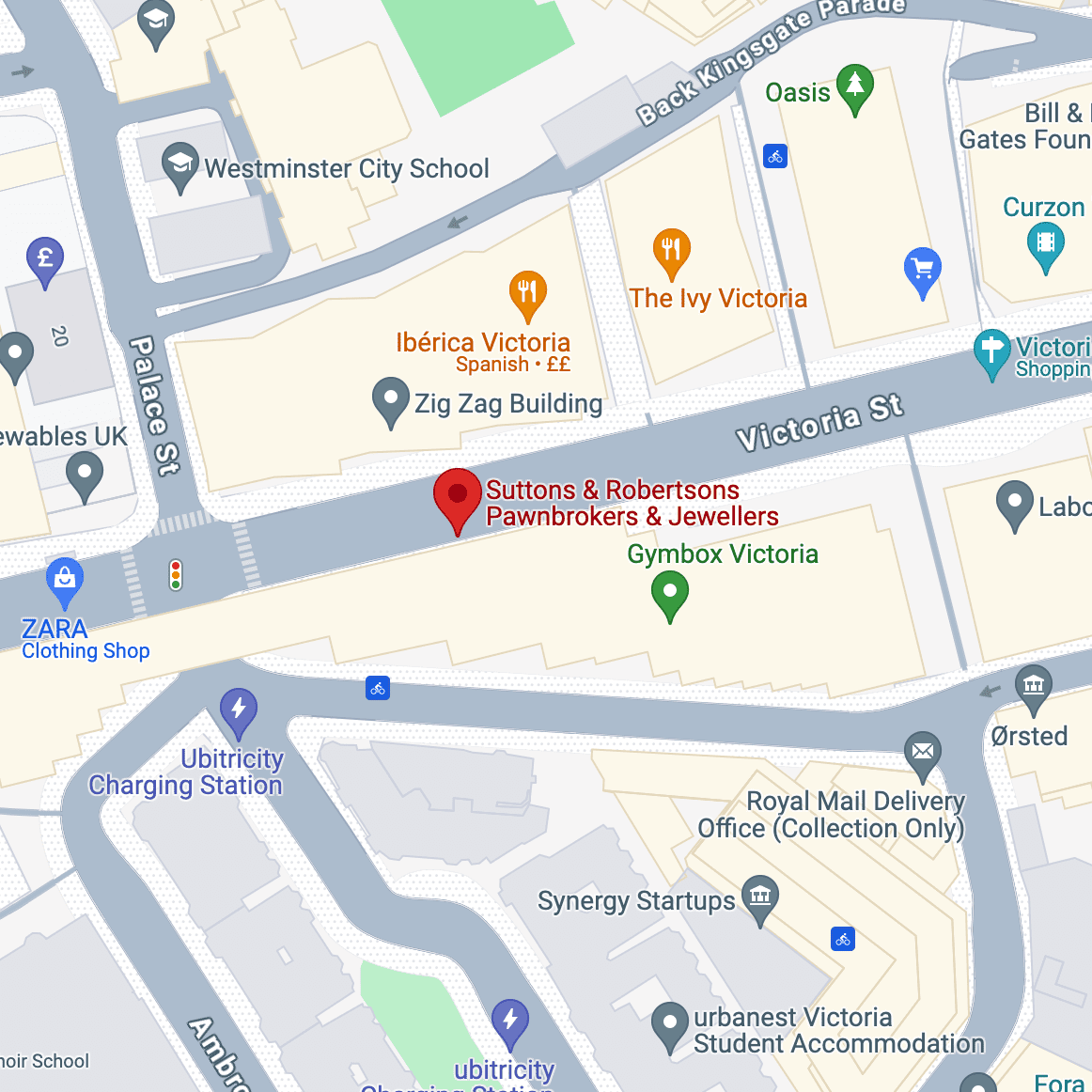 Sell your watches and jewellery
Shop watches and jewellery
Bespoke jewellery service
Welcome to our London Victoria Jewellers and Pawnbrokers
We are delighted to welcome visitors to our newly-renovated pawnbrokers retail store in the heart of Victoria.
Our doors are always open to clients who wish to pawn a luxury asset or who would like to pick up something delightful from our retail showroom.
We're easy to find as our store sits beside Westminster's Roman Catholic Cathedral Cathedral Piazza. Across the road from Cardinal Place shopping centre, we're truly in Victoria's bustling centre.
A 5-minute walk from the Victoria transport hub, clients can travel to our Victoria store by national bus, mainline train or London underground. St James's Park underground station is a 10-minute walk away. Our store is also on several local bus lines. – call our store for more localised bus information on 0333 009 7788. Local to Buckingham Palace, visitors can reach us with an easy 9-minute walk.
Our team at Victoria – as with all of our stores – are highly experienced jewellery watch experts who will be delighted to offer you a valuation on your luxury asset and talk you through the pawnbroking process, if this is your first loan.
Confidentiality is paramount and we take our clients' privacy seriously. Your valuation will be treated with discretion, you'll be able to talk to our team before moving forward with your loan.
At our Victoria store, we also have a beautiful range of pre-owned fine jewellery watches from some of the finest watchmakers in the world. Our pre-owned ranges can be the ideal place to pick up a hard-to-find Rolex with a special edition dial or stainless steel sports model. You will also come across pieces that are not in common circulation – these can include unusual Cartier Panthere pieces – but you will also be able to shop more recent pieces, including Tiffany City Hardwear.
We're open Monday to Friday and Saturday, we invite you to drop in. Appointments are not necessary, but you are welcome to call in advance and chat with one of our team.
Our Pawnbroking Loan Rates
Terms
All our loans are for 6 months and are secured against your valuables. Maximum APR (including all fees): 93.21%. Minimum and maximum repayment term of 6 months. These loans are redeemable at any point during the loan period. Only the loan amount and accrued monthly interest are payable if the loan is redeemed before the end of the loan term.
REPRESENTATIVE EXAMPLE
Loan amount of £1,000. Loan term of 6 months. Interest rate of 6% per month (fixed). Total interest of £360 over 6 months.
Total repayable amount in one instalment is £1,360. Representative APR is 84.96% (including all fees).
Risk Warning: If the loan is not repaid, the assets may be sold.