Get a short term pawn loan against your Omega watch
Launched in 1848 as the La Generale Watch Co, the Swiss watchmaker rebranded as Omega in 1903. Their watches have graced the wrists of the military, astronauts, sports stars and movie stars, such as brand ambassadors, George Clooney and Nicole Kidman. Omega is also the watch behind James Bond. The Speedmaster, known as the 'Moonwatch' was famously worn by Buzz Aldrin, making it the first watch to be worn on the moon. As with fellow Swiss watchmakers, Rolex, Omega's history reputation for quality secures its place as one of the finest watch brands in the world and ensures consistently strong prices at auction, through resell or in a pawnbroking loan.

Fast
Receive money in as little as an hour, online or in-store.
Expert
Trusted pawnbroker jeweller for over 250 years.
Competitive
Accurate valuations and competitive loan rates.
Confidential
Discreet service with no credit or affordability checks.

Fast
Receive money in as little as an hour.
Expert
Trusted pawnbroker and jeweller for over 250 years.
Competitive
Accurate valuations and competitive loan rates.
Confidential
Discreet service with no credit checks.
A FAST AND SIMPLE PROCESS
Contact us
Get in touch with us online,
in-store or by phone.
Accept Offer
RECEIVE YOUR OFFER FROM OUR
SPECIALISTS IN AS LITTLE AS 1 HOUR.
RECEIVE MONEY
ACCEPT THE AGREEMENT AND RECEIVE
THE MONEY VIA SAME-DAY BANK TRANSFER.
GETTING YOUR WATCH TO US
WE OFFER SEVERAL OPTIONS:
IN-STORE
Bring your Omega watch(es) into one of our London stores today. You are welcome to book an appointment with our expert appraisers and they will be ready to meet you when you arrive.
COURIER SERVICE
Use our free insured Special Delivery courier service to send your Omega watch(es) to us, or we can send our courier to you to collect your Omega watch(es). Receive money in 24 – 48 hours from your home.
STAFF COLLECTION
Have your high-value Omega watch(s) collected by one of our staff members at a convenient time and place for you.
HOME VISIT
For high-value Omega watches, our specialists can come to you to value your luxury assets.
Valuing Your Omega Watch
Our highly trained specialists consider many factors when valuing your Omega to ensure we provide you with the most accurate and up to date valuation. The most important factors are:
MODEL
Certain models, such as the Speedmaster, tend to hold or appreciate in value more than other models, which is why it's such an important factor to consider when valuing your Omega watch.
PROVENANCE
If you have the original box, a certificate of sale or any papers that record information about your Omega watch, this adds value. If you have lost or misplaced them, don't worry, we will still be able to provide you with a loan estimate.
CONDITION
We understand that over time your Omega might have some wear and tear damage, though any significant dents, scratches, repairs, restorations or other damage to the glass, bracelet or leather strap can impact the value.
MARKET VALUE
We consider any recent information we can locate from auction and private sale records to ensure our valuations are accurate.
We also check your watch against lost and stolen registers as part of our due diligence.
AGE
The age of your Omega can have a positive or negative impact on value. Contemporary and modern Omega watches tend to have a higher value when they are newer. Vintage Omega watches are valued on their rarity condition.
Security and Care
LOOKING AFTER YOUR OMEGA WATCH
TRANSPORT
If you use our courier service to have your Omega watch(es) collected from your home or you send your items to us, they will be insured up to £20,000 during transportation.
If your Omega watch(s) is of high value and you use our staff collection service, they will be insured up to £100,000 during transportation.
STORAGE
Whilst your Omega watch(es) is with us to be valued by our specialists or if your Omega watch(es) is under loan with us, it is stored in protective packaging in our highly secure vaults.
CARE
When your Omega watch(es) is with us, we take every step necessary to look after it. Our valuation specialists and inventory managers handle your Omega watch(es) with care to make sure your luxury valuables are returned to you in the same condition we received them in.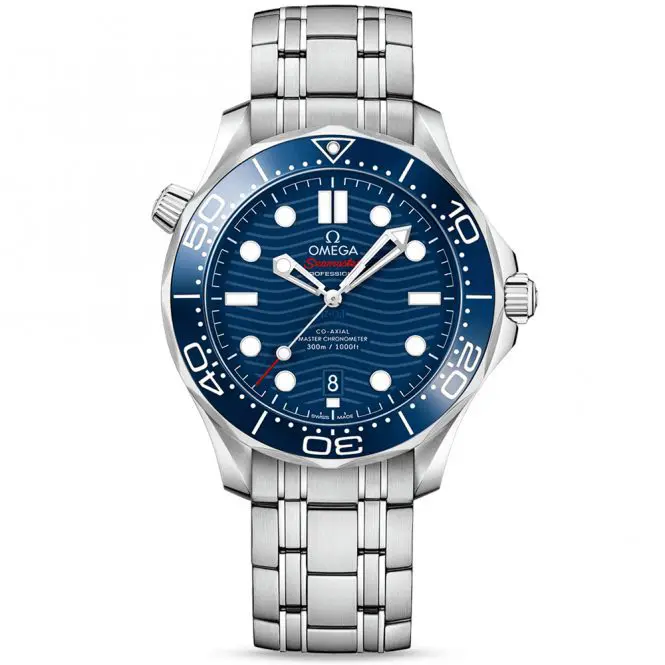 Omega
Men's Seamaster Diver
£1,300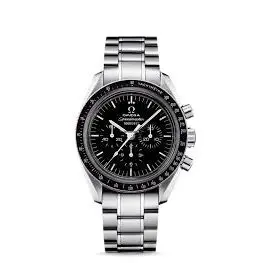 Omega
Speedmaster Moon Watch
£1,700
FREQUENTLY ASKED QUESTIONS
Can I pawn my Omega watch online?
Yes. Suttons and Robertsons are an in-store and online pawn shop. If you want to transact with us from home, rather than coming into one of our stores, you can apply online and use our secure home collection service. If you use our home collection service and decide you don't want to accept our loan offer, we will arrange for your item(s) to be returned to you free of charge. Alternatively, you are welcome to collect your item(s) in-store.
Can I sell my used Omega watch?
Yes. If you decide you don't want to pawn your Omega watch, we can provide you with a purchase offer. Get a quote with us online, in-store or by phone today.
Can I pawn my Omega Seamaster watch?
We offer pawn loans against Omega Seamaster watches. The Omega Seamaster first made a diving record in 1955, when diver Gordon McLean reached a depth of 62.5 meters (205 ft) in Australia. Inspired by the historical markings on gondolas in Venice, the Seahorse became the symbol of the Seamaster in 1958 and is still featured on a selection of models.
What luxury assets do you offer loans against?
What is the value of Bond Omega watches?
Time's Up, Mr Bond…
With Q behind the hidden gadgets within Bond's watches, Omega has been behind the Bond watch since Pierce Brosnan joined the franchise in 1995. Wearing the Omega Seamaster Quartz in GoldenEye, he then wore the Omega Seamaster Professional Chronometer for later films.
For the Bond's 40th anniversary of James Bond in 2002, a commemorative edition of the watch was made available with a blue watch dial and a 007 logo inscribed across it machined into the caseback.
Daniel Craig's Bond goes one further, swapping from the Omega Seamaster Planet Ocean in the first part of Casino Royale, to the Seamaster Professional 300M (when he travels to Montenegro) and even namechecks the Omega brand when questioned by Vesper Lynd. Bond continues its partnership with Omega, releasing commemorative watches to tie in with Bond film launches.
Did OMEGA get to the moon?
Suttons and Robertsons may well be known within the London pawnbroking industry as a watch specialist, but it is the knowledge that underpins their specialism that sets them apart from other London pawnbrokers. In addition to the level of information that they hold  to give accurate evaluations, Suttons and Robertsons have a great understanding of the stories behind the great brands. This is why they are reputed for both luxury watch and pawnbroking retails. Working with brands like Patek Philippe, Rolex, Bremont and Breitling, Suttons and Robertsons can point us directly to great moments in history and explain what was happening in terms of time-keeping.
Omega watches have been at the forefront of modern chronometry, with the brand performing consistently well at annual chronometry trials which were set in order to understand if time can be measured precisely and how best to make sure that timepieces can do this. Alongside Patek Philippe and as the only other major luxury watch brand taking part in the trials, Omega was able to consolidate their reputation for precision innovation.
Luxury Swiss watchmaker based in Bienne, Switzerland, Omega has played a huge part in space exploration and is even known as the 'first watch on the moon'.
Omega NASA
The Omega Speedmaster was first introduced in 1957, but the manual winding Speedmaster Professional or 'Moonwatch' is the best-known and longest-produced. Worn during both the first American spacewalk of NASA's Gemini 4 mission during the first moonlanding of the Apollo 11 mission, the Speedmaster Professional remains qualified for space travel by NASA.
Not originally designed for space exploration, The Speedmaster was launched in 1957 as a sport racing chronograph and reinforced Omega's position as the official timekeeper for the Olympic Games.
The first Speedmaster model was powered by the Omega Calibre 321 movement with the 'Speedmaster' name taken from the model's novel tachymeter scale bezel (in brushed stainless steel) by the convention set by previous Omega brands Seamaster Railmaster. The Speedmaster model established the series' hallmark 12-hour, triple-register chronograph layout, domed Plexiglas crystal (named Hésalite), simple, high-contrast index markers and, unlike most subsequent Speedmaster models, it used Omega's broad arrow hand set.
While all early Speedmasters used the Calibre 321 movement, it was replaced in 1968/1969 with the Calibre 861 movement, used in the 'Moonwatch'. The watches used in Apollo 11's mission were the 1967 'pre-Moon' 321 versions.
Omega in space
Three years before the Speedmaster's official qualification for space flight, astronaut Wally Schirra took his personal CK 2998 aboard Mercury-Atlas 8 (Sigma 7) on October 3, 1962. Following what must have been a successful – in unintentional – pilot, legends tells of a furtive visit to a jeweller in Houston, Texas to evaluate their use for the Gemini Apollo Programs. This stands corrected by a former NASA engineer responsible, James Ragan, for Apollo flight hardware testing, who claims that bids were officially requested from several brands. Brands under official consideration included Breitling, Longines-Wittnauer, Rolex and Omega. Tested under extreme conditions of high temperatures of 160 °F (71 °C) and 200 °F (93 °C), freezing conditions of 0 °F (−18 °C), near-vacuum conditions, humidity, shock, varying degrees of pressure, vibrations and noise. Evaluations concluded in March 1965 with the selection of the Speedmaster.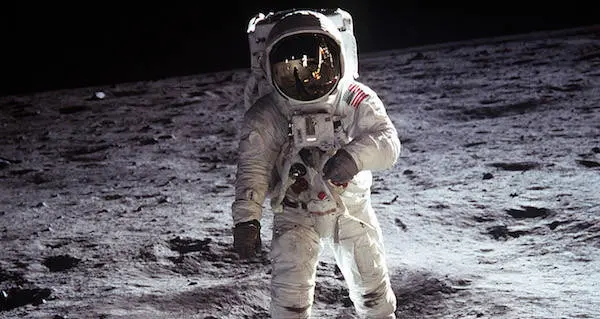 Gemini program
Gemini 3 on March 23, 1965 saw Gus Grissom and John Young sport the first officially qualified Speedmasters, while Ed White made the first American spacewalk during Gemini 4 with a Speedmaster strapped to the outside of the left-side sleeve of his G4C space suit. To make sure that it fitted around the space suit, the watch was attached by a long nylon strap secured with Velcro, wound round several times to shorten its length.
Images were widely used in Omega marketing between 1965 and 1967, establishing a strong link to the Speedmaster space exploration. Speedmasters were issued to all subsequent Gemini crews until the end of the program in 1966.
Apollo program
By 1966, Speedmaster being used across the early manned Apollo program, reaching the Moon with Apollo 11. These prior models are known as 'pre-Moon' Speedmasters, as their manufacture predates the Moon landings they are without the inscription later models carry: "The First Watch Worn on the Moon".
While Apollo 11 commander, Neil Armstrong, was first to set foot on the Moon, he left his Speedmaster inside the Lunar Module as a backup, because the Lunar Module's electronic timer had malfunctioned.  Buzz Aldrin wore his Speedmaster, making it the first watch to be worn on the Moon. He said of his decision:
It was optional to wear while we were walking on the surface of the Moon … few things are less necessary when walking around on the Moon than knowing what time it is in Houston, Texas. Nonetheless, being a watch guy, I decided to strap the Speedmaster onto my right wrist around the outside of my bulky spacesuit.
Sadly, Aldrin's Speedmaster was lost during shipping when he sent it to the Smithsonian Institution.
Apollo 17 carried an additional Speedmaster to lunar orbit as part of the Heat Flow Convection Experiment, conducted by Command Module pilot Ronald Evans. This Speedmaster watch was sold for $23,000 at a Heritage Auction in 2009.
Apollo 13
In 1970, after Apollo 13 was almost devasted by the rupture of a Service Module oxygen tank, Jack Swigert's Speedmaster was used to accurately time the critical 14-second burn using the Lunar Module's Descent Propulsion System, which secured the crew's safe return. In recognition of this, Omega was awarded the Snoopy Award by the Apollo 13 astronauts, "for dedication, professionalism, outstanding contributions in support of the first United States Manned Lunar Landing Project."
Speedmaster has remained flight-qualified for NASA space missions after re-evaluation by NASA in 1972 remained in use for the Space Shuttle program in 1978.
A Moonwatch of your own?
Omega produces a large number of commemorative limited editions, based on the basic 'Moon Watch' design, featuring different patches for the space missions it was issued for.
What Omega models do you lend against?
The Omega models we lend against include but are not limited to Seamaster, Speedmaster, De Ville and Constellation.
Can I pawn a used Omega watch?
Yes. If you are trying to find out if you can borrow money against the value of your Omega watch, Suttons and Robertsons have been providing a trustworthy pawnbroking service since 1770. We can assist you in raising instant finance using your luxury Omega watch as loan collateral. Don't worry if you have never used pawnbroking services before, our customer service team are there to assist you through the process.
What watch brands do you lend against?
We lend against many watch brands including but not limited to Rolex, Patek Philippe, Cartier, Vacheron, Jaeger-LeCoultre, Frank Muller, IWC, Omega, Breitling, Panerai, Audemars Piguet and Hublot.
What is the Olympian OMEGA?
Omega's sporty numbers
Omega has frequently been the official timekeeper for the Olympics, beginning with the 1932 Summer Olympics as well as supporting teams from the America's Cup in 1995. With a strong performance in golf timekeeping, Omega was the official timekeeper of PGA of America for 5 years until 2016, as well as the sponsors of the Dubai Desert Classic and the Omega European Masters.
Traditionally, Omega placed great importance on Chronometry ensuring that chronometers would measure time precisely. With only Patek Philippe and Omega taking part in the annual trials, Omega gained a reputation as a company of precision innovation.
Omega has played a large part in 20th Century history, with the Speedmaster selected for use in space. Also known as the 'Moonwatch', the Omega Speedmaster Professional Chronograph was worn by Buzz Aldrin and is known as the first watch on the moon. All subsequent manned NASA missions used the handwound Moonwatch.
Omega watches are hugely popular with many celebrities, with actors such as Bond actors Pierce Brosnan and Daniel Craig fans. Sports stars gravitate towards Omega's outstanding performance with oceanographer, Jacques Cousteau, and yachtsman, Eric Tabarly, opting for the Omega Marine Chronometer. Omega also attracts statesmen and world leaders, with JFK, Mikhail Gorbachev and, interestingly, Mao Zedong – as in Chairman Mao – gave power to the people of China as the founding father of the People's Republic of China while wearing an Omega for 31 years.
When it comes to pushing the boundaries of what is humanly possible, it seems as if Omega is at the forefront. Founded in 1848, the Swiss watchmaker's Speedmaster model has featured on all of NASA's manned missions – including the US's six moon landings.
On Earth, Omega places its focus on faster, stronger, and higher and has been named as the official Olympic timekeeping partner 28 times. If you have an Omega that you would like a loan on, you may even have an Omega that has a connection to one of Omega's Olympic Games, Youth Olympic Games and Paralympic Games. In addition to precision time-keeping for events, Omega has been the driving force behind the timekeeping equipment that is used by many athletes. Currently, Omega is an Olympic Games' Worldwide Partner until the 2032 Olympic Games and Paralympic Games has released the Seamaster Diver 'Tokyo 2020' to mark the Games. A 42mm case, Co-Axial Master Chronometer Calibre 8800, with a blue ceramic bezel ring white enamel diving scale, the Seamaster's caseback showcases a Tokyo 2020 Olympic Games emblem on sapphire crystal.
Omega's history can be traced through the Olympic Games', with their first connection dating back to the 1932 Los Angeles Games. Omega sent one Swiss watchmaker with 30 split-second chronographs and a precision partnership was born.
As Rolex has witnessed Centre Court's finest moments, so too has Omega measured some of the most important moments in modern sporting history – sometimes modern social history, with Omega timekeeping Jesse Owens' four gold medals at Berlin's 1936 Games, under Hitler's watchful stare. By 1952, Omega was timing athletes' performance to a hundredth of a second, while it was Omega's development of the Omegascope that brought figures to our small screens, giving us sport in real time. While it might seem normal to modern viewers, in 1964 it was game changing. As time became more finitely measured, it seemed that losing even a split second was too much and Omega developed the touch pad that let swimmers stop their own clock from Mexico City 1968 onwards. By London 2012, Omega timekeeping was measured in millionths of a second; it is this precision that could mean the difference between a place on the podium – a medal – and nothing.
What can be over in the blink of an eye is actually being measured to the highest standards in chronology by some of the finest watchmakers on the planet. With a best loan offer for your Rolex or your Omega on the table, you stand a sporting chance of turning your investment into an instant cash loan with Suttons and Robertsons, London's prestige pawnbrokers.
When it comes to elite sports, the big watch brands want a piece of the action. To be associated with timekeeping excellence and a world-class sporting event can give luxury watch-makers leverage over their competitors.
At Suttons and Robertsons, our watch experts have been offering loans against luxury watches since 1770 we specialise in some of the most famous brands in the world if you're thinking 'I might like to pawn my Omega' or get a loan against a Rolex watch. What makes these watches so special is the extreme level of detail in the production process but also the absolute adherence in timekeeping to the 'nth' of a second. It's not a surprise, then, that prestigious sporting events, including Wimbledon and the Olympics, rely heavily on their timekeeping partners.
Why is OMEGA at the forefront of Chronometry?
Omega watches, much like the value that comes with the Rolex brand, can command strong prices at the point of auction, resell or through pawnbroking. Suttons and Robertsons Pawnbrokers in central London takes a look at the Swiss watchmakers to discover why they have stood the test of time.
Although Suttons and Robertsons are well known for high-end pawnbroking from their London premises, they are also a key player in London's top of the range watch retailers, promoting brands including Patek Philippe, Rolex and, of course, Omega.
Omega is a luxury Swiss watchmaker based in Bienne, Switzerland. Launched in 1848 as the La Generale Watch Co, the company rebranded as Omega in 1903, with their watches gracing the wrists of the military, astronauts, sport stars, movie stars and one very famous fictional British spy.
The Omega brand began life as an offshoot of La Generale Watch Co, which used a production control system that allowed component parts to be interchangeable. Omega became such a dynamic concept that it became a brand in its own right in 1903, the same year that the company's leaders – Louis-Paul César Brandt – died. Producing 240,000 watches annually with a work force employing 800 people, Omega suddenly found itself in the hands of four young people, with the oldest – Paul-Emile Brandt – was only 23.
Brandt was a great businessman understood how to weather the post-war period, with his first coup in bringing the Omega Tissot brands together as SSIH, Geneva. The SSIH Group enjoyed strong growth, incorporating many of the companies behind Omega's chronograph movements. By the 1970s, SSIH was Switzerland's number one producer of finished watches number three in the world, outselling Rolex, its main Swiss rival.
With the rise and rise of quartz watches, Omega competed with brands, including Seiko Citizen, with watches using Swiss made quartz movements.
The 1980s saw a number of mergers takeovers across the Swiss watch industry, in an attempt to bring stability to the Swiss watch-making industry. By the late 1990s, Omega had become part of the Swatch Group.
How much is the Omega Speedmaster from Apollo 13?
When it comes to events in history, many of us learn the facts from the film rather than the real event. As such, most of our facts about "Apollo 13", the failed Moon landing, come from the Hollywood movie about the event, sometimes we miss out on some of the smaller details. It remains a mostly unknown fact that the Omega speedmaster, or "moon watch" as it was known, served a lifesaving role in getting the astronauts safely home.
Two days into the mission, that involved a planned moon landing, a fuel tank was ruptured. After many hardships, that meant using the earth's terminator to navigate fixing critical systems with duct tape the crew was 60 miles off course for re-entry. As the engineers amongst us would know an angle of entry too steep would result in an unsuccessful entry and send the craft, damaged, back into space.
As a result, a timed burn was needed given the cabin clock had been shut down to conserve power, the omega chorograph was used, for the 14-second burn. The manoeuvre worked.
At a press conference on NASA Space Center Houston, Lovell described the manoeuvre.
"(It) was done without our normal navigation equipment. We used the earth as a backline. We could see the earth, we could see the daytime and darkness and that line in between we call it twilight or the terminator," he said. "We had a crosshair on the window of the lunar module so we could superimpose our crosshair on the earth's terminator that positioned the engine of our lunar module so we can make the correct movement to get back into the proper course to make a safe landing back on earth."
He continued, "We had to burn the engine. Have it on only for a certain length of time: 14 seconds…. We used the (Omega) watch that Jack had on his wrist, I had to control the spacecraft. Jack timed the burn on the engine to make that correction to get back home safely.
To give praise recognition to Omega the astronauts themselves gave them the "silver snoopy award" which is a private NASA award. At a press conference with the CEO of Omega, Stephen Urquhart, he said he had been unaware of the watches use, he had no discussions with NASA until then, the watch was designed to time race cars.
Speedmaster today
Unsurprisingly the speedmaster is still a very popular watch, for men who like the steel look of a Rolex Daytona, it can be a more affordable option. The brand still has a strong association with NASA and holds the record for being the first watch on the moon. If you are looking for an investment that you can wear, or a stylish men's luxury watch that can be had in the £2,000 – £4,000 mark this could be the watch for you.
It can also be used to time your race car, save your space mission or to get the train on time.If you're looking for a fast cash loan from a London pawnbroker, then do get in touch.
Our Pawnbroking Loan Rates
Terms
All our loans are for 6 months and are secured against your valuables. Maximum APR (including all fees): 93.21%. Minimum and maximum repayment term of 6 months. These loans are redeemable at any point during the loan period. Only the loan amount and accrued monthly interest are payable if the loan is redeemed before the end of the loan term.
REPRESENTATIVE EXAMPLE
Loan amount of £1,000. Loan term of 6 months. Interest rate of 6% per month (fixed). Total interest of £360 over 6 months.
Total repayable amount in one instalment is £1,360. Representative APR is 84.96% (including all fees).
Risk Warning: If the loan is not repaid, the assets may be sold.
In a world driven by fleeting trends and evolving styles, a designer watch stands as a timeless testament to craftsmanship, precision, and enduring elegance. Beyond its functional purpose, a...
read more