Are you Looking for a Loan Secured Against Your Fine Art?
We lend against a wide range of fine art, ranging from Old Masters to contemporary pieces. Whether your fine art is from a well-known artist, such as Claude Monet or Banksy, or a less well known artist, we will be able to provide you with a loan estimate.

Fast
Receive money in as little as an hour.
Expert
Trusted pawnbroker and jeweller for over 250 years.
Competitive
Accurate valuations and competitive loan rates.
Confidential
Discreet service with no credit checks.

Fast
Receive money in as little as an hour.
Expert
Trusted pawnbroker and jeweller for over 250 years.
Competitive
Accurate valuations and competitive loan rates.
Confidential
Discreet service with no credit checks.
A FAST AND SIMPLE PROCESS
Contact us
Get in touch with us online,
in-store or by phone.
Accept Offer
RECEIVE YOUR OFFER FROM OUR
SPECIALISTS IN AS LITTLE AS 1 HOUR.
RECEIVE MONEY
ACCEPT THE AGREEMENT AND RECEIVE
THE MONEY VIA SAME-DAY BANK TRANSFER.
GETTING YOUR Fine art TO US
WE OFFER SEVERAL OPTIONS:
IN-STORE
Bring your fine art into one of our London stores today. You are welcome to book an appointment with our expert appraisers and they will be ready to meet you when you arrive.
STAFF COLLECTION
Have your fine art collected by one of our staff members at a convenient time and place for you.
SPECIALIST COLLECTION
Have your high-value fine art collected by one of our specialist logistics partners.
HOME VISIT
For high-value fine art, our specialists can come to you to value your luxury assets.
Valuing Your Fine Art
Our highly trained specialists and network of industry experts from some of the leading galleries and auction houses ensure we provide you with the most accurate and up-to-date valuation. The most important factors are:
ARTIST AND PIECE
We consider information about the artist and piece, such as the title, year/period created medium.
PROVENANCE
Any purchase information or papers ownership history will help us provide you with a valuation quicker. In some cases, we can only offer you a loan estimate if there is some purchase or previous ownership history.
CONDITION
Restorations, repairs, rips, tears, surface damage, fading or any other damage can all affect the value.
MARKET VALUE
We consider the current supply/demand balance and any information we can locate from auction, gallery and private-sale records about recent comparable sales.
We also check fine art against loss and stolen registers as part of our due diligence.
Security and Care
LOOKING AFTER YOUR FINE ART
TRANSPORT
If you use our specialist collection service to have your fine art collected from your home, it will be fully insured against theft, damage and wear during transportation.
If your fine art is of high value and you use our staff collection service, it will be insured up to £100,000 during transportation.
STORAGE
When fine art is with us, it is stored in our highly secure vaults or one of our premium specialist fine art storage facilities. Whether your fine art is stored in our highly secured vaults or at a partners' facilities, they are routinely checked on and examined.
CARE
Whilst your fine art is with us to be valued by our specialists or if your fine art is under loan with us, it is wrapped in acid-free paper stored in custom-made protective packaging.
FREQUENTLY ASKED QUESTIONS
HOW MUCH CAN I PAWN MY FINE ART FOR?
We offer loans from £500 up to £2 million, but our minimum value threshold on fine art is £5,000. We always aim to provide our clients with the maximum loan amount though the amount depends on many factors, including the artist, piece, provenance, condition and current market value.
WHAT TYPES OF FINE ART DO YOU LEND AGAINST?
We primarily lend against flat fine art, such as paintings and sketches, but we will also consider loans against sculptures.
WHERE CAN I PAWN MY FINE ART?
Suttons and Robertsons have four pawn shops in London; Victoria Street Pawnbrokers, Edgeware Road Pawnbrokers, South Kensington Pawnbrokers and Fleet Street Pawnbrokers. We offer an online pawn shop service for customers who prefer to transact with us from home or don't have a pawnbroker nearby.
IS ART A GOOD INVESTMENT?
Investing in art can be hit miss, but when it does pay, the return on investment can be considerable. The tale of Van Gogh is a case in point; a tortured genius driven mad by his own failure to be recognised. Only selling one of his own paintings in his lifetime, Vincent Van Gogh lamented the fact that it seemed the canvas and paint he used was of greater value to the world than his paintings. Producing over 2,000 pieces in his lifetime before killing himself in despair, Van Gogh would never know that the world would marvel at his work and that his paintings would sell for millions.
ARE ART PATRONAGES A GOOD INVESTMENT?
What Van Gogh lacked was a significant backer – this is the essence of how art investment works. It is also how great artists are discovered; the opportunity to discover an art genius outweighs for many the chance of backing a lesser artist. Typically, a wealthy benefactor would have supported a struggling artist. They scoured the art scene for someone they could believe in and then paid for them to produce artworks that they could bring to the rest of the world through exhibitions, reaping the financial rewards and kudos. While it may still happen this way for a small number of artists worldwide, technology is empowering more people to invest in art and share in artists' patronage.
WHY LOAN AGAINST YOUR FINE ART?
If you are lucky enough to own a piece of fine art, it can often form the rare dual function as an asset and a source of pleasure. However, problems can arise in having such a non-liquid form of wealth and the need for a fast loan may arise, such as a sudden business opportunity or house renovation. Fine art collectors are often reluctant to sell a unique piece that brings them joy, increasing in value and hard to replace. Therefore, a loan against their fine art is often the most suitable option.
CAN I SELL MY FINE ART?
Yes. If you decide you don't want to pawn your fine art, we offer a sale advance product for high value fine art collectors who are looking to sell but raise funds immediately.
Get a quote
with us online, in-store or by phone today.
HOW IS ARTWORK VALUED?
The value of these is calculated on: Piece Style Period Condition Recent comparable sales Provenance (if available)
Our Pawnbroking Loan Rates
Terms
All our loans are for 6 months and are secured against your valuables. Maximum APR (including all fees): 93.21%. Minimum and maximum repayment term of 6 months. These loans are redeemable at any point during the loan period. Only the loan amount and accrued monthly interest are payable if the loan is redeemed before the end of the loan term.
REPRESENTATIVE EXAMPLE
Loan amount of £1,000. Loan term of 6 months. Interest rate of 6% per month (fixed). Total interest of £360 over 6 months.
Total repayable amount in one instalment is £1,360. Representative APR is 84.96% (including all fees).
Risk Warning: If the loan is not repaid, the assets may be sold.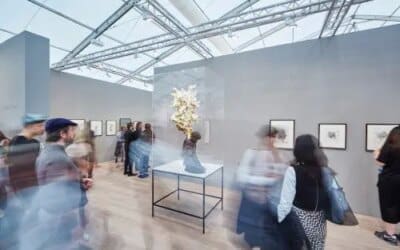 It may seem like it belongs to the realm of the super-wealthy to have your own art buyer. Yet, with the newly energised market, the access to online buyers curators advances in shipping, it has...
read more
As far as hobbies go, an interest in art, supporting your local creators, going to galleries can be a great way to spend your time.
read more