The Cartier brand is the ultimate in opulence but it is also a byword for simple class and finesse. Founded in Paris in 1847, it was over half a decade before it started to produce jewellery. In the decades between, Cartier has become one of the world's quintessential jewellery brands and is responsible for creating some of the most iconic pieces of jewellery ever.
Let's take a look at their top four most iconic pieces and discover more about the inspiration behind their design.
1. Panthère De Cartier
The Panthère not only ranks as one of Cartier's most iconic collections but it stands out across the world of luxury jewellery. Taking inspiration from a painting of a panther Louis, grandson of founder Louis-François Cartier, had commissioned, Louis adopted the big cat as the brand motif. In 1935, the brand's then-creative director, Jeanne Toussaint – also nicknamed 'La Panthère' – released the original Cartier Panther Ring. With fiercely green emerald eyes and black onyx stripes set in yellow gold, the Panthère De Cartier collection has evolved and grown to include necklaces and bracelets. Toussant lead the charge for the Panthère collection and it resonated with some of the most famous women in the world at that time – actress Maria Felix, heiress Barbara Hutton and socialite Daisy Fellows. Panthère De Cartier is also forever associated with the Duchess of Windsor, Wallis Simpson, whose Panthère bracelet fetched £4.5 million at auction in 2010.
2. Love de Cartier
The stripped back simplicity of Love de Cartier has captured the imagination of lovers all over the world. Appreciating that jewellery is often given as a token to declare and cement love.
Cartier created the Cartier Love bracelet to represent everlasting love and loyalty. Released in 1969 by Aldo Cipullo, the Love bracelet can be worn by both men and women. Inspired by the lock-and-key concept behind chastity belts, the Cartier Love bangle will only close and open with its matching screwdriver. Each bracelet features screw-like design elements which serve to make the Love bracelet as much of a handcuff as a bracelet, with Love bracelets available in white gold, rose gold, yellow gold and platinum.
In addition to the Love locking bracelet, Cartier expanded the Love collection to include rings, necklaces and earrings. Some pieces are also studded with precious stones, including diamonds and multicoloured sapphires.
Famous couples that have publicly declared their love with a Cartier bracelet include Liz Taylor and Richard Burton, Steve McQueen and Ali MacGraw, Sophia Loren and Carlo Ponti.
3. Trinity de Cartier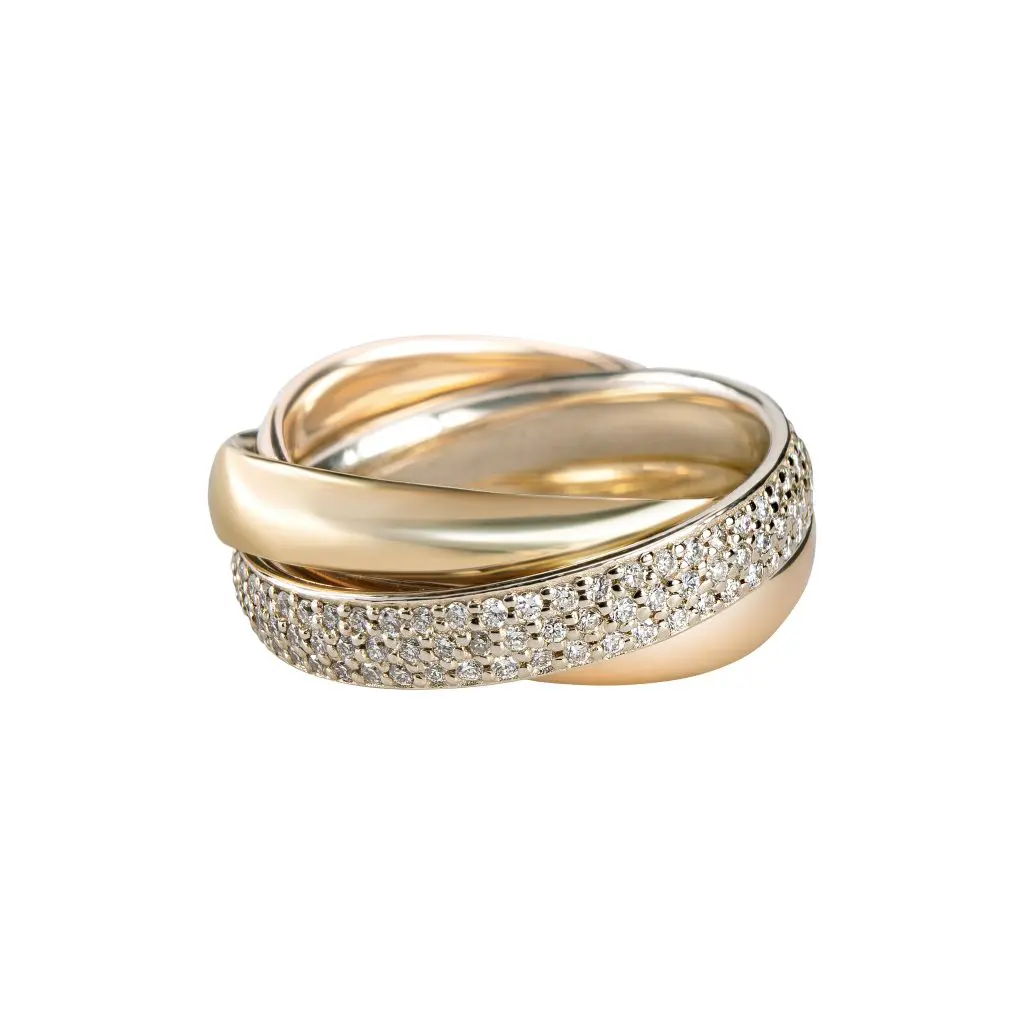 Introduced by Louis Cartier in 1924, Trinity de Cartier is one of the house's oldest collections still in production today. Trinity features three interlocking rings made out of three different golds, each symbolising a deeper meaning. Designed by Cartier at the request of French filmmaker, Jean Cocteau, the original Trinity ring's three gold bands were used to represent the different stages of a romantic relationship. White gold is used to represent friendship, the yellow symbolises fidelity and the rose gold band signifies true love.
As with many of Cartier's core ranges, Trinity has grown to include bracelets, necklaces and earrings, with many pieces incorporating precious stones and pave diamonds. While the root of Trinity finds itself in the tri-coloured ring, many of the pieces in the Trinity collection are comprised of just one colour of gold.
‍4. Juste Un Clou
One of Cartier's most iconic pieces is arguably both one of its most simple. First created – again by Aldo Cipullo – in New York in 1971, the Juste un Clou bracelet was called the Nail bracelet upon release. Relaunched as part of a wider collection in 2012, Juste Un Clou offers cufflinks, rings, earrings and necklaces. Pieces are produced in three golds – yellow, white and rose – and may feature pave diamonds.
Cipullo pulled no punches when he first created the 'Clou'. He used the sleek and stripped back lines of an everyday nail, which he bent around the wearer's wrist. The design was inspired by New York's wild spirit and freedom in the 1970s but the piece was to be constantly wearable.
'Juste Un Clou' or 'Just a Nail' was originally called simply 'Clou' in 1971. Meaning 'just a nail', the design has become iconic since its recent relaunch. Although Juste un Clou hit its stride officially in 2012, Cipullo designed it just after he created the Cartier Love bracelet.  Again, designed for wear by both men and women, it represents one of Cartier's most contemporary-looking pieces despite its early 1970s origins.
Discover the Cartier Icons for Yourself
Shop our Cartier watch collection now or if you are looking to sell your Cartier jewellery? Please get in touch today for a free valuation.