Sell Your Tiffany Jewellery
Sell Your Tiffany Rings, Necklaces, Bracelets and More to a Trusted London Jewellery Buyer Today
We will look at every aspect of your Tiffany piece so that we can offer you the best price for your jewellery. As well as considering the prestige of the brand, we also welcome certification and the original Tiffany box, which is such an integral part of the Tiffany experience.

Fast
Receive money in as little as an hour.
Expert
Trusted pawnbroker and retailer for over 250 years.
Competitive
Accurate valuations and competitive purchase offers.
Secure
Transact with us using our secure courier service.
Secure
Transact with us using our secure courier service.
Competitive
Accurate valuations and competitive purchase offers.

Fast
Receive money in as little as an hour.
Expert
Trusted pawnbroker and retailer for over 250 years.
A FAST AND SIMPLE PROCESS
Contact us
Get in touch with us online,
in-store or by phone.
Accept Offer
RECEIVE YOUR OFFER FROM OUR
SPECIALISTS IN AS LITTLE AS 1 HOUR.
RECEIVE MONEY
ACCEPT THE AGREEMENT AND RECEIVE
THE MONEY VIA SAME-DAY BANK TRANSFER.
How to sell Tiffany jewellery online
1. PREPARE FOR SALE
Collect all documentation for your Tiffany Jewellery, including any receipts and original box for valuation. Please take pictures of your Tiffany piece, box, original paperwork and any diamond certificates for gemstones if you still have them.
 2. CONTACT US
Please contact us with the images and a full description of the piece/s of Tiffany jewellery for sale. Our Tiffany experts will review your enquiry and make you an indicative offer in as little as one hour.
3. PACKAGE AND POST
We then send you a pre-paid and insured courier pack. Insert your carefully packed jewellery and send it back to us. Retain your Special Delivery tracking number. Or, you may wish to visit one of our London stores in person.
4. ACCEPT OFFER
Once we receive your jewellery, we check the condition and confirm authenticity. If you wish to accept our final offer, let us know and we will send you the documentation for you to sign and send back.
5. RECEIVE PAYMENT
Payment will be made by immediate bank transfer into your account.
FREQUENTLY ASKED QUESTIONS
How to get the most money for your second hand Tiffany jewellery?
As jewellery experts, Suttons and Robertsons could be the best place in the UK to sell your Tiffany jewellery, but ensuring that you have the original box and any certification or registration documents will help to increase your valuation.
Where is the best place to sell your Tiffany jewellery?
If you're thinking of selling Tiffany jewellery, working with Suttons and Robertsons means that you will be working with a team of professionals that value high-end luxury value on a daily basis. The team at Suttons and Robertsons know exactly what they're looking for when they value Tiffany jewellery.
Where to sell second hand Tiffany jewellery?
While there are many jewellery stores that sell Tiffany jewellery, not all of them will sell old Tiffany jewellery. We are delighted to sell second-hand Tiffany jewellery and can help you to release the value of your pieces, making sure that the money arrives in your account in as little 24 hours.
Which Tiffany jewellery collections are the most popular?
There is a huge market for second hand Tiffany jewellery- that's how we know your Tiffany jewellery has a good resale value. All collections are beloved by Tiffany collectors across the world, but Return to Tiffany, Tiffany Hardware, Tiffany T and Tiffany's Elsa Peretti collections are extremely popular.
What Tiffany jewellery do we buy?
We will always have buyers for second-hand Tiffany jewellery and we welcome anyone who is wondering 'should I sell my Tiffany ring' or 'is there anywhere I can sell Tiffany jewellery near me'. You can visit us in-store or call us by phone. We buy Tiffany earrings, necklaces, bracelets, engagement rings, wedding rings and necklaces. If it's Tiffany, we'd like to see it.
Can you sell back Tiffany jewellery?
Tiffany & Co. will not buy back Tiffany jewellery. Rather the iconic jewellery brand does offer an upgrade system. Tiffany's upgrade system allows you to return your Tiffany pieces for store credits. You can then use these store credits against new Tiffany pieces in-store. Tiffany does not offer a cash-back service for their jewellery either online or in-store and you may only buy Tiffany jewellery with your store credits.
At Suttons and Robertsons, we offer a service where we make you an offer for your Tiffany jewellery. Once accepted, funds will be transferred directly into your bank account, allowing you to spend the money how you wish.
Is every authentic Tiffany piece marked with a signature?
Every real piece of Tiffany & Co. jewellery will be marked with the brand name, purity marks and the country of manufacture. You make also see a Tiffany serial number. Not all pieces include a signature as the Tiffany brand includes designer signatures on a limited number of pieces. Some of the designers permitted to add a signature are Frank Gehry, Elsa Peretti and Paloma Picasso. The locations of signatures will depend on the piece. Look for a tag near the clasp on link bracelets and necklaces, or on the inside of a bangle or a ring. On earrings, these will be found on the posts.
How much is my Tiffany jewellery worth?
Tiffany & Co. jewellery is iconic for many reasons, from the Tiffany blue boxes to the Audrey Hepburn film, 'Breakfast at Tiffanys'. Teamed with the outstanding quality of each piece and the superlative designers behind the Tiffany collections, Tiffany holds its value. Large solitaire rings have been known to fetch over £100,000 at the point of resale, while a necklace of gold and semi-precious mineral Amazonite could have a price tag of £15,000. Our Tiffany experts will value your Tiffany rings, necklaces and earrings, assessing the condition and provenance, alongside recent auction prices, to give you an accurate valuation.
Is my second hand Tiffany jewellery worth a lot of money?
At Suttons & Robertsons, we always consider Tiffany jewellery a solid investment. A strong brand, Tiffany creates a high-quality product that is synonymous with luxury class. Vintage Tiffany pieces can secure high valuations, especially if they come with the box authentication certificate. Contact us for an accurate valuation.
How can you tell if Tiffany jewellery is real?
Tiffany's sterling is frequently counterfeited, but true Tiffany sterling will feature the mark '925' or the word 'Sterling'. The 925 mark refers to the percentage grade of the American Sterling Silver Standard, which was initiated in the US by Tiffany & Co themselves. Tiffany will not work on any pieces that they believe to be counterfeit.
Is it worth selling my Tiffany ring?
If you have a Tiffany ring and are thinking about selling it, you can rest assured that Suttons and Robertsons will offer the best price to buy your Tiffany ring. This is due to the extremely high quality of Tiffany diamonds, as the US jewellery brand only uses diamonds with Excellent Cut Grades. This fact alone makes a Tiffany diamond worth the high cost attached.
What services do you offer for Tiffany jewellery?
What branded jewellery do you buy?
We buy jewellery from many different brands including but not limited to:
Sell Kutchinsky jewellery
Sell Chaumet jewellery
How to sell a Tiffany ring?
Tiffany rings are highly sought after, with the Tiffany solitaire engagement ring considered as the gold standard of the style. We buy preowned Tiffany rings of all styles, from iconic Elsa Peretti collections to modern Hardwear style.
Where can I sell my Tiffany necklace and bracelet?
Preowned jewellery specialists, we offer online and in-store valuations of all Tiffany jewellery, including Tiffany necklaces and bracelets. Preowned Tiffany jewellery is popular and there is always a keen demand for both vintage and modern collections.
What to Consider when selling your Tiffany Engagement Ring
SALES CHANNEL
If you are thinking about selling your Tiffany engagement ring, there are several different routes to market with each route offering the buyer something slightly different. Selling with an auction house means that you have to work around their timeline before your Lot number will be heard at auction. Auction houses will take care of the sales process, ensuring that your buyer is of good faith but it will be the auction house that sets the reserve price on your piece/s. This is in contrast with using a marketplace, such as eBay. Selling on the internet brings with it access to a large audience with the opportunity to make a quick sale, however it can be hard to sell high value pieces in this way as buyers can be nervous that they are purchasing a genuine piece.
Selling Tiffany through a private sale removes many of the unknowns, enabling seller and buyer to establish a relationship. However, private sales can require a lot of action on the behalf of the seller to identify possible buyers, which means that the process can take a long time and buyers can fall through at the last minute. Working with a jeweller, like Suttons and Robertsons, can result in a very quick sale with a valuation option. The impetus falls upon the jeweller to line up future buyers but we buy the piece from you as soon as the valuation is accepted and so the funds could be in your account in as little as 24 hours from the point of valuation.
SELLER FEES
Selling through an auction house will attract fees which can be as high as 20% of the price fetched. This could result in a sizeable chunk of your funds going to the auction house. While online marketplaces, like eBay, don't take seller fees that are set as high, they do charge you for facilitating the sale through their system. However, when selling through a marketplace, the seller takes care of the majority of the presentation of the pieces and communication.
BUYERS' REPUTATION AND EXPERTISE
When selling to an auction house, you will be working with a reputable brand who are well-versed in helping owners to sell jewellery, but they won't be able to guarantee that your piece will be sold. When selling through a marketplace, you may or may not be dealing with a reputable buyer. Without an independent valuation to set your price, you might find yourself at the mercy of buyers that offer too low a price for the piece you are selling. While you can always turn down these offers, it relies on the seller to deal with these interactions. Sharp-eyed buyers may offer you a lower price in order to secure a quick purchase. When selling directly to a jeweller, you can count on an expert valuation and the backing of a reputable brand behind all valuations.
DISCREET SERVICE
Part of the seller's fees at an auction house help to buy discretion on the part of the auction house. Not only does the seller not have to reveal themselves, but buyers can equally remain anonymous. With both private sales and online marketplaces, buyers and sellers have a direct connection which can leave both parties vulnerable to negotiation. When selling to a reputable jewellery, the sale of your pieces is quick and discrete and you will never have to interact with the eventual buyer.
MARKET VALUE
Establishing the correct market value for your piece is an important element of any jewellery sale. Auction houses have recent auction prices at their fingertips – as do jewellers who will also check all auction prices as part of the valuation. However, jewellers can also count on their own retail experience and have a superb knowledge of what pieces will be bought for in a retail setting. When selling privately or through a marketplace, your piece may only be worth what someone is willing to pay for it. You won't have to settle for a price that you don't want to but it may mean that your piece is not sold at your first attempt.
London's Luxury Jewellers & Pawnbrokers
Behind London's oldest, active pawnbroking business and jewellers, Suttons and Robertsons, is a team of highly skilled jewellery experts who are able to offer accurate valuations whether you're selling second-hand luxury jewellery or have a high value asset for a secured loan. Buying luxury watches in London since 1770, Suttons and Robertsons can count on centuries of experience and is highly regarded as a trusted and reputable pawnbrokers jewellers. The team seeks to offer each and every client the best valuation for their piece, whether it be a Rolex Submariner, a Chanel J12 watch or a Tiffany solitaire engagement ring. Specialised and knowledgeable, Suttons and Robertsons deliver a prestigious, discrete service.
Have you considered a short term loan?
If you only need money in the short term, a loan secured against your luxury assets will release the financial worth stored within them whilst allowing you to retain ownership. Loans can be agreed and the funds can be in your bank account on the same day. Your luxury asset is returned to you when the loan is repaid. Read more about pawnbroking loans now.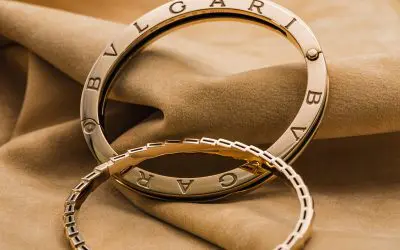 Bvlgari makes stunning jewellery that's so fabulous it's lusted after by jewellery lovers and counterfeiters alike – as with many luxury jewellery brands – Tiffany is another example. From the Roman...
read more