Contact us for an Instant Offer for Your Boodles Jewellery
Boodles, the 200 year old family-run jewellery house, has a reputation for superb craftsmanship and innovative design. Their flawless jewellery combines the best of British tradition with a modern touch, making their pieces the perfect assets for a high valuation.

Fast
Receive money in as little as an hour.
Expert
Trusted pawnbroker and retailer for over 250 years.
Competitive
Accurate valuations and competitive purchase offers.
Secure
Transact with us using our secure courier service.
Secure
Transact with us using our secure courier service.
Competitive
Accurate valuations and competitive purchase offers.

Fast
Receive money in as little as an hour.
Expert
Trusted pawnbroker and retailer for over 250 years.
A FAST AND SIMPLE PROCESS
Contact us
Get in touch with us online,
in-store or by phone.
Accept Offer
RECEIVE YOUR OFFER FROM OUR
SPECIALISTS IN AS LITTLE AS 1 HOUR.
RECEIVE MONEY
ACCEPT THE AGREEMENT AND RECEIVE
THE MONEY VIA SAME-DAY BANK TRANSFER.
Getting Your Boodles Jewellery to Us
WE OFFER SEVERAL OPTIONS:
IN-STORE
Bring your Boodles jewellery into one of our London stores today. You are welcome to book an appointment with our expert appraisers and they will be ready to meet you when you arrive.
COURIER SERVICE
Use our free insured Special Delivery courier service to send your  Boodles jewellery to us, or we can send our courier to you to collect your jewellery. Receive money in 24 – 48 hours from your home.
STAFF COLLECTION
Have your high-value Boodles jewellery collected by one of our staff members at a convenient time place for you.
HOME VISIT
For high-value Boodles jewellery, our specialists can come to you to value your luxury assets.
Valuing Your Boodles Jewellery
Our highly trained specialists consider many factors when valuing your Boodles jewellery to ensure we provide you with the most accurate up to date valuation. The most important factors are:
TYPE AND MODEL
The value of your Boodles jewellery can vary considerably depending on this. Knowing the model is important and whether your jewellery piece is a ring, bracelet, brooch, necklace or a pair of earrings can make a significant difference.
PROVENANCE
If you have a certificate of sale or any papers that record information about your Boodles jewellery, this adds value. If you have lost or misplaced them, don't worry, we will still be able to provide you with a loan estimate.
MATERIAL
Boodles jewellery is primarily made of either gold (yellow, white, rose), platinum or silver. Look for the hallmark stamped on your jewellery as this certifies the purity (9 – 24 carats).
CONDITION
We understand that over time your Boodles jewellery might have some wear and tear, though any significant dents, scratches or other damage can impact the value. Broken Boodles jewellery made of a precious metal can still be valued by weight and gemstones can be valued separately, though the additional value you get with luxury branded jewellery will be reduced.
GEMSTONES
Diamonds are assessed by the fundamental four C's: colour, clarity, cut and carat. To achieve the highest potential value for your diamonds, we welcome the 5th C: certificate. Laboratory certificates from GIA, HRD, Anchorcert and IGI all help maximise the value of your diamonds.
AGE
The age of your Boodles jewellery can have a positive or negative impact on value. Contemporary modern Boodles jewellery tends to have a higher value when it is newer. Vintage Boodles jewellery is valued on rarity condition.
Security and Care
LOOKING AFTER YOUR BOODLES JEWELLERY
TRANSPORT
If you use our courier service to have your Boodles jewellery collected from your home or you send your items to us, it will be insured up to £20,000 during transportation.
If your Boodles jewellery is of high value you use our staff collection service, your items will be insured up to £100,000 during transportation.
STORAGE
Whilst your Boodles jewellery is with us to be valued by our specialists or if your item is under loan with us, it is stored in protective packaging in our highly secure vaults.
CARE
When your Boodles jewellery is with us, we take every step necessary to look after your luxury valuables. Our valuation specialists inventory managers handle your Boodles jewellery with care to make sure your luxury valuables are returned to you in the same condition we received them in.
FREQUENTLY ASKED QUESTIONS
Where is Boodles Jewellery made?
A prestige British brand that dates back to 1798, every piece of Boodles jewellery is designed in Britain and produced by master craftsmen in the United Kingdom. Boodles' commitment to highly skilled precision jewellery production and design make Boodles a highly reputable brand.
What services do you offer for Boodles jewellery?
Is Boodles Jewellery good?
Boodles is a well-respected fine British jewellery brand that began life over two centuries ago in Liverpool. The brand produces all types of jewellery, including rings, diamond necklaces and pendants. Collections include Raindance, inspired by raindrops glistening in the sun and the Be Boodles, with the diamond-set letter 'B' motif.
What is an Ashoka diamond?
An Ashoka diamond is a diamond gemstone that has been cut in a specific way. With 62 facets, Ashoka cut diamonds are celebrated for both their rarity and their superlative sparkle. Boodles is the only British jeweller that offers the Ashoka cut of diamond.
What is Boodles Greenfire?
An emerald necklace that is worth over £2 million is part of a set that includes a necklace, pendant, earrings and a ring. Featuring 18 Muzo Colombian emeralds, their deep green is said to have a fire within them. The famous Greenfire necklace has 46.20 carats of emeralds and 17.38 carats of diamonds.
Jewellery BRANDS WE BUY
WE BUY MANY BRANDS INCLUDING BUT NOT LIMITED TO: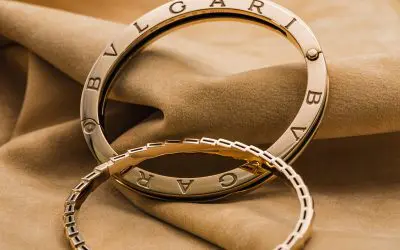 Bvlgari makes stunning jewellery that's so fabulous it's lusted after by jewellery lovers and counterfeiters alike – as with many luxury jewellery brands – Tiffany is another example. From the Roman...
read more